Welcome to Tech Titans Manchester
Your go-to destination for iPhone, MacBook and other Apple product repair services in Manchester. We understand how crucial your Apple devices are to your daily life, and we're here to ensure they get the care they deserve. Whether you're dealing with a cracked iPhone screen, a malfunctioning MacBook, or any other issue, our team of skilled technicians is here to help.
Why Choose Us for iPhone and MacBook Repairs:
1. Genuine and Aftermarket Parts: At Tech Titans Manchester, we prioritize the quality of our repairs. We use a combination of
genuine and high-quality aftermarket parts to ensure your iPhone or MacBook is restored to its optimal functionality. Our commitment to using authentic parts sets us apart from the competition.
2. Skilled Technicians: Our team of experienced technicians is well-versed in repairing iPhones and MacBooks of all models. From the latest iPhone releases to older MacBook versions, we have the expertise to diagnose and fix a wide range of issues.
3. Comprehensive Repairs: We offer a comprehensive range of repair services for iPhones and MacBooks. Whether your
device needs a new battery, charging port repair, speaker replacement, or screen fix, we have the knowledge and tools to get the job done efficiently.
4. Quick Turnaround: We understand the inconvenience of being without your iPhone or MacBook. Our goal is to provide
prompt and efficient repair services, minimizing your downtime and ensuring you get your device back as quickly as possible.
5. Customer Satisfaction: Your satisfaction is our top priority. We take pride in our workmanship and strive to exceed your
expectations with every repair. Our dedication to delivering top-notch service has earned us a reputation as a trusted choice for iPhone and MacBook repairs in Manchester.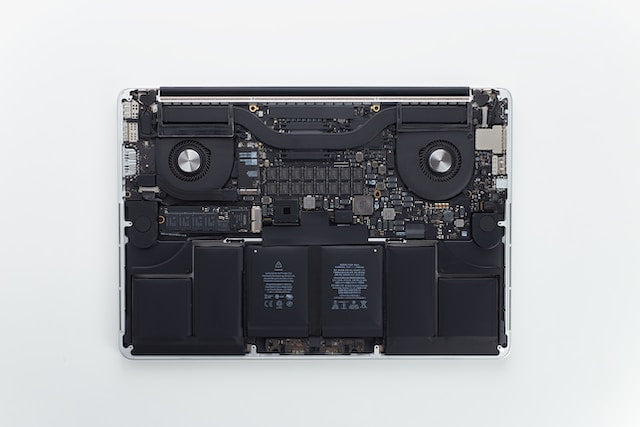 Our iPhone and MacBook Repair Services:
Screen Replacements: Accidentally cracked your iPhone screen? Our technicians can replace your screen with precision and care, restoring your device's visual appeal.
Battery Replacements: Is your iPhone or MacBook's battery draining quickly or not holding a charge? We can replace your
battery, extending the lifespan of your device.
Charging Port Repairs: If your iPhone or MacBook is having trouble charging, our experts can diagnose and repair charging port issues, ensuring your device powers up properly.
Speaker Fixes: Experiencing muffled sound or no audio at all? Our technicians can repair or replace speakers, restoring crystal-clear sound quality.
And More: Our repair services go beyond the basics. Whether you're facing camera problems, software issues, or any other malfunction, we have the skills to tackle a wide range of
problems.
Get Your iPhone, MacBook or other Apple devices Fixed Today:
Don't let a malfunctioning device disrupt your routine. simply fill in the form below or contact Tech Titans Manchester today to get started. You can reach us at 0161 706 1339 or if you prefer an in-person visit, please feel free to visit our store at Unit 24 Hatch, 103 Oxford Road, Manchester, M1 7ED during our business hours.